Fresh Moringa Oliefera leaves. Why ?
copyright 2012. Moringa Australia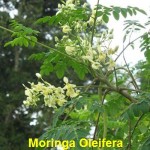 Its a Raw Food. Its a Super Food
Although almost all parts of this tree is edible and are highly beneficial, the consumption of fresh leaves is the very best way our bodies want to be fed, but accept it as just a suppliment to the proper intake of potent powder and capsules – Cautionary Note below re – (stomach upsets and diarrhea)
Fresh leaves are absolutely full of un-touched goodness and holds 4 times the amount of chlorophyll than wheat-grass. (Chlorophyll stimulates healing by rejuvenating the body at the cellular level, strengthening the immune system and naturally cleansing the body of toxins).
************************************************
Excerpt from Miracle Tree, by Dr Monica G. Marcu, PhD, Pharm.D., Pharmagologist
Chlorophyll – One of the phytonutrients in Moringa
Chlorophyll, the green pigment of plants, is an alkalinizing compound found in plants that helps offset the acidifying effect of the typical high-fat, high-protein Western diet. Because chlorophyll is not known to be an essential nutrient, a "deficiency" does not exist. People who do not eat plenty of green foods lack chlorophyll in their diets.
"Chlorophyll is involved in the most important chemical reaction on earth, photosynthesis. Our lives would not be possible without it. Chlorophyll is the master chemical at the base of all of our food supply and oxygen production.
Chlorophyll, often referred to as "the blood of plants", is closely related to hemoglobin – the red pigment of red blood cells responsible for oxygen transport in many animals. The main difference between the two molecules is the metallic element in the center. In human blood hemoglobin consists of iron, while in chlorophyll, the metallic element is magnesium. Some people believe that this resemblance helps the chlorophyll to be better absorbed and used to "build up" blood and fight anemia. Some scientists and nutritionists do not believe it is absorbed internally (to reach the blood) but rather that it may act locally to support the health of the mouth, stomach and intestinal tract.
In either case, there is much evidence that chlorophyll could cure or ease acute infection of the respiratory tract and sinuses, chronic ulcers, and bad breath; it also accelerates wound healing and has been shown in animal studies to nullify the cancer-inducing effects of a variety of environmental (including food) toxins. Other studies have shown that chlorophyll supports liver function and detoxification of the body.
Moringa is one of the very few foods that contain chlorophyll together with so many other nutrients (vitamins, minerals, proteins, beneficial fats), and has a great taste. Dark green vegetables and herbs like Romaine lettuce, spinach, or parsley are excellent sources of chlorophyll, but they do not provide many of the other nutrients of Moringa."
************************************************
Dr Monica G. Marcu, PhD, Pharm.D. quote "Among all the plants I know I cannot think of a more nutritious one than Moringa. And while I am definitely supporting a diet including a wide variety of plants, mostly un-cooked (in order to preserve the activity of enzymes, vitamins and phytochemicals), I believe that Moringa (leaves, pods, fruits) should be used as often as possible. One plant has it all! One-stop nutrients supply with few calories or salt.) end quote.
************************************************
Taken directly off the trees and utilised immediately and directly by the body's systems.
It is the least man-handled Moringa product.
Our harvesting of fresh leaves for immediate dispatch are timed so as to not having fresh leaves left in post offices over weekends or holidays. Australia post say "two days maximum for delivery, nationwide"
When you receive our leaves, the parcel would be an airtight bag. Please transfer into an airtight container and place in a fridge as soon as possible. Leaves should last about 14 – 20 days. (Leaves lasts a lot longer left on its stalks until use). The stalks are also nutritious but a little chewy.
Uses and a caution with fresh leaves.
* Eat on its own, directly off its stalks
* At the very last moment before food is removed from heat sources, sprinkle the leaves in.  Do this with soups, curries, omelettes, pizzas, etc. Dont cook the leaves.
* Also add leaves to any cold dishes such as salads, sandwiches. Use as dressings too.
Most people find an improved taste in foods with Moringa leaves. That's an added bonus to an already powerful nutritional food. It has a lightly peppery taste.
Cautionary Note – (stomach upsets and diarrhea)
In order to produce the amount of daily nutrients needed by the body, one needs 10 times of fresh leaves to powdered leaves EVERY DAY and long term to effectively achieve the daily needs of your body. Thats a large amount of leaves. This will / may cause stomach upsets and diarrhea.
Powder is concentrated leaves, so its amounts are much more potent and easier to measure and consume.
It takes many (many) trees to produce sufficient leaves to make into small amounts of powder.
The other benefit of dried leaves is that they can also be used as a Tea drink, after being steeped in hot water.
Dried leaves are fresher longer if left as dried leaves in an airtight non – see through container.
We tend to only harvest & grind dried Leaves into powder as close to retailing them as possible. This way the Moringa Powder does not lose its freshness and potency.
(Please note – Moringa powder looks and smells like ordinary powdered garden grass, and brown coloured powders may be 'mixed' or 'off'. Only use reputable suppliers for genuine products)
*
* Moringa Powder is used to make smoothies, but can also be used the same ways as those listed for Fresh Leaves.
Points raised above are the main differences between Fresh and Dried; and as explained above, it also takes more dried leaves to equate to the same weight of fresh leaves.
Finally, potent (very freshly harvested & ground, NOT aged nutrient depleted imports) powder and powder filled capsules is the only realistic way to acheive concrete results of healing, body repairs & fortifications.